Another Prince of Denmark on Stage? (I wish!)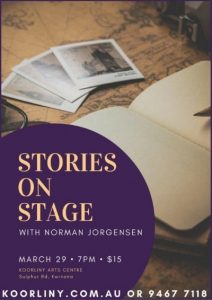 March  29th, 2017 at 7pm.
WHERE:
Koorliny Arts Centre,
Theatre 1
Sulphur Road
Kwinana WA 6167
COST: $15 all tickets
BRIEF DETAILS: The swashbuckling Norman Jorgensen will kick off the 2017 programme.
SUITABLE FOR: Adults who love reading and writing
 ADDITIONAL INFO:  Norman Jorgensen was born in Broome, and has lived in several country towns since. At a young age he developed a love of books, especially historical novels like Treasure Island, and old movies. At age thirteen Norman learned to sail. These days he loves travelling and researching exotic places for his books. His latest book is The Smuggler's Curse.
Stories on Stage is a series of evening 'meet the author' events held in Theatre 1. Each event includes an author talk, Q and A session, meet and greet over supper, book sales and signings. Tickets cost $15 each and include supper.
In 2017, events will be held on:
March 29: Norman Jorgensen (children's fiction)
May 24: Rashida Murphy (historical fiction) in conversation with Monique Mulligan
July 26: Alli Sinclair (romance fiction) in conversation with Monique Mulligan
September 13: David Whish-Wilson (crime fiction) in conversation with Monique Mulligan
November 22: Gabriel Evans (book illustrator)
PRAISE FROM AUTHORS:
Thank you for a terrific evening at the Koorliny Arts Centre. The facilities were superb, the organisation of the event was excellent and the audience was fun and receptive –  and the cakes at the end were an unexpected bonus. – FELICITY YOUNG (The Insanity of Murder)

(Stories on Stage) was beautifully organised and welcoming, and I really enjoyed myself, in a part of Perth that I'd never been to before. – JOAN LONDON (The Golden Age, Gilgamesh, The Good Parents)

I thoroughly enjoyed the opportunity to present my Stories on Stage at the Koorliny Arts Centre. The event, hosted by the brilliantly organised Monique Mulligan, allowed me to engage my audience in an intimate theatre setting. Literary conversations continued during the delicious supper, generously supplied at the conclusion of my presentation. I encourage all those interested in books and writing to visit the Koorliny Art Centre and enthusiastically support the diverse range of authors Monique has lined up for future Stories on Stage events. – MARK GREENWOOD (The Legend of Moondyne Joe)

What I loved most about being part of #DateNight at Stories On Stage was the setting. The theatre is lovely, intimate and friendly, and I felt like I was chatting about romance books and romance writing with people I'd known forever. Monique has a wonderful knack for interesting and intuitive questions, and the evening moved at a cracking pace. I didn't want it to be over, and one day, I'd love to be invited back again. LILY MALONE (Fairway to Heaven, His Brand of Beautiful)

Loved being a part of Stories on Stage. Fabulous facilities, yummy home-baked goodies, great hostess, well-organized, awesome community spirit and loads of fun. The audience was relaxed and friendly which went a long way toward calming my nerves. Keep up the good work! JUANITA KEES (Under Cover of Dark)

I really enjoyed the causal, intimate atmosphere of Stories on Stage and the opportunity to chat with the warm and generous audience members. – ANNABEL SMITH (The Ark)

Stories on Stage was a lovely opportunity for me to connect with readers. I was able to spend several hours talking with them, hearing their stories and answering their questions. I suspect I enjoyed their company more than they enjoyed mine! – ROS THOMAS, Weekend West columnist (Was it Something I Said?)

What a treat to be with not only an enthusiastic, interested, engaged and generous audience, but also in such a wonderful facility.
The presentation at Koorliny Arts Centre was truly a moment where everything came together beautifully – the people and the place, and for, me, the combination of a words-and-music performance, and then a more formal "talk" about travelling and writing, which I hadn't done before. I have received some kind feedback from those who came along (and about Monique's delicious supper, too).
The whole thing was a delight, and I very much appreciate being invited. – STEPHEN SCOURFIELD, Travel editor and author

Thank you again for inviting me to take part in your wonderful Stories on Stage program for 2014. It was an excellent event, very well organised, and such a lovely audience, too. – AMANDA CURTIN (Elemental, The Sinkings)
The audience was pleasantly responsive, and I had several interesting conversations with people afterwards. The venue, which I hadn't previously visited, was excellent for the Stories on Stage kind of arrangement, and I've been enthusiastically telling friends about what Koorliny can offer. – IAN REID (That Untravelled Road, The End of Longing )
I had a terrific  time at Koorliny Arts Centre; it's a lovely light and friendly place, with great facilities in a delightful setting and Monique looked after me so well.  But the best thing was having the chance to meet people there who were so obviously interested in books and reading and the arts generally.  It was so nice to be among such and interesting and friendly group of people and I enjoyed the questions, the laughs and the sense of being among friends.  And they have the very best cakes!  I felt like stuffing some in my bag to eat on the way home, but the friend who was with me suggested that might be a bit unladylike!  Thanks to Monique and Koorliny Arts Centre for making me so welcome. – LIZ BYRSKI (The Company of Strangers, Last Chance Cafe, Gang of Four)

Stories on Stage was well organised and I had the chance to meet and talk with several lovely readers. Monique was a pleasure to deal with and made the event run as smoothly as possible. – NATASHA LESTER (If I Should Lose You; What is Left Over, After)
I enjoyed participating in the Koorliny Stories on Stage event.  It had been very well publicised and organised and attracted a good, engaged audience. No author could ask for more. – ALAN CARTER (Prime Cut; Getting Warmer)